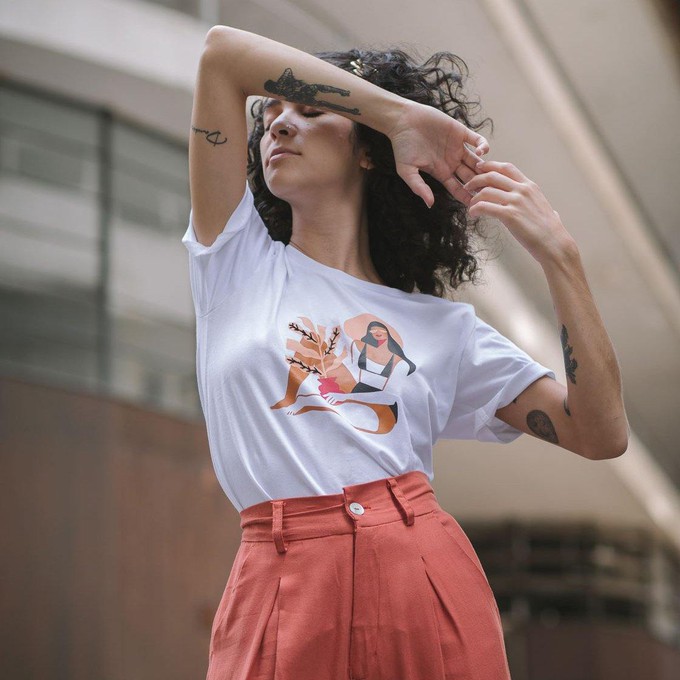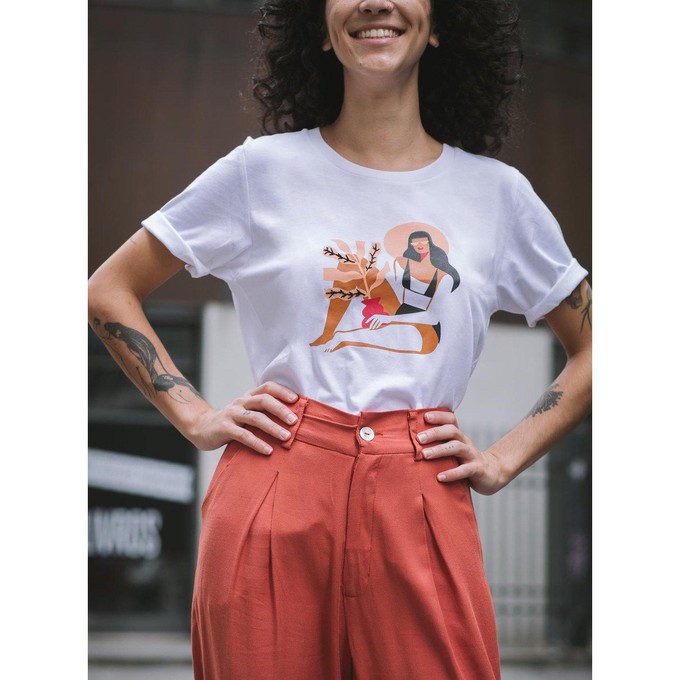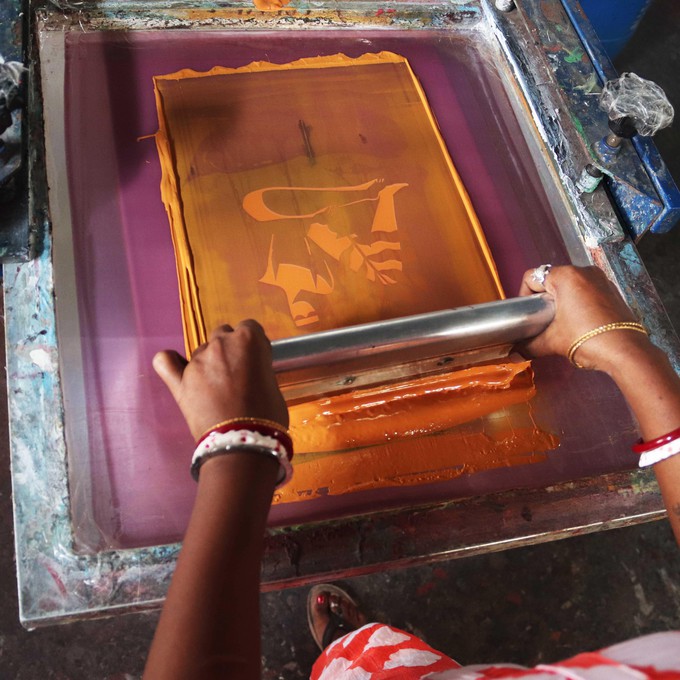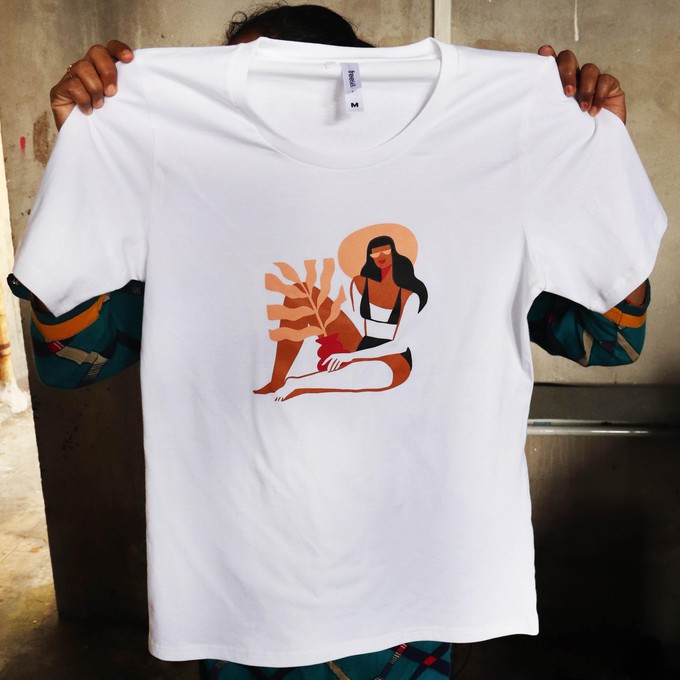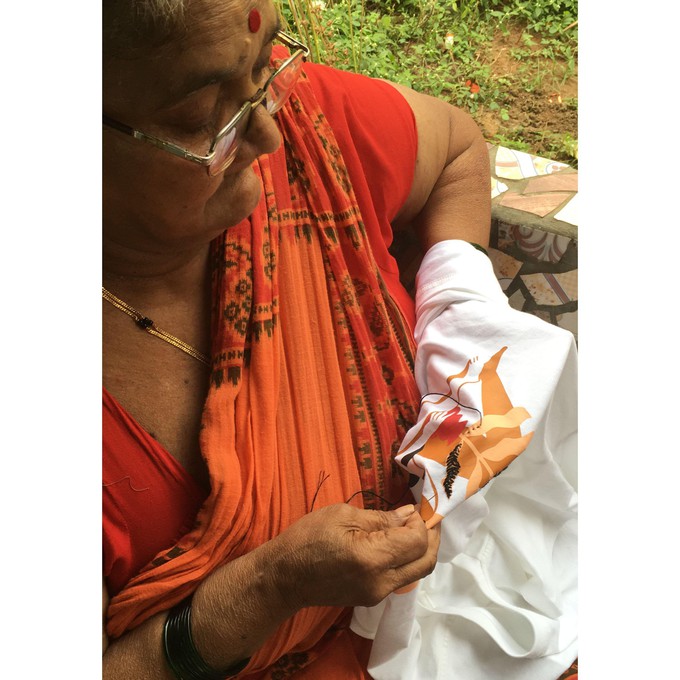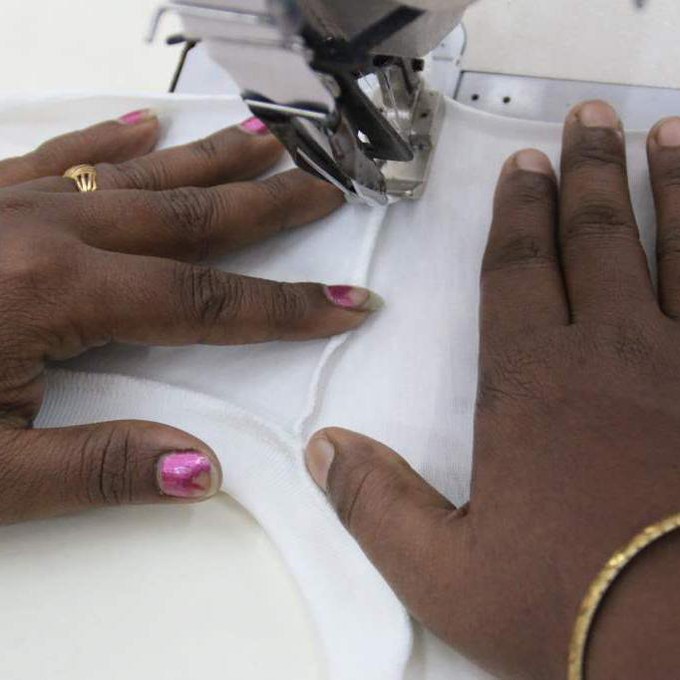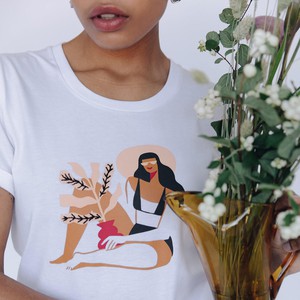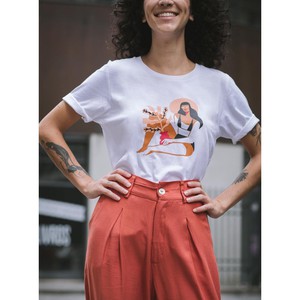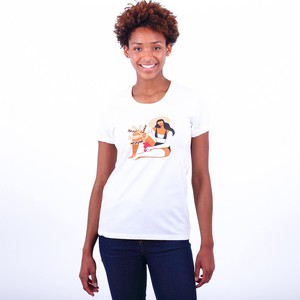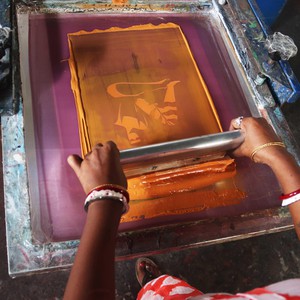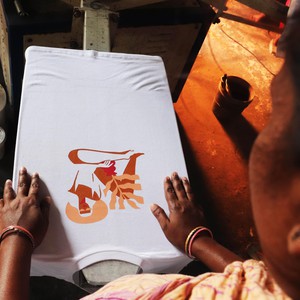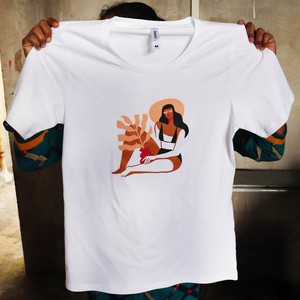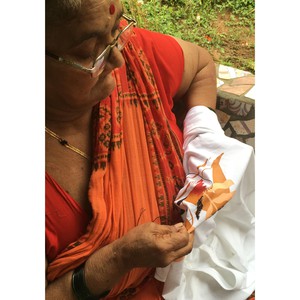 Maya Printed Organic Cotton T-shirt
€41.90



Add a bit of sunshine to your outfit! This t-shirt is the result of a collaboration between Project Três + Carolina Búzio + Freeset Global. Carolina Búzio is a Portuguese artist based in Berlin. In this illustration, called "sunny lady", she wants to represent and inspire powerful women around the world. The leaf is covered with cute embroidered details made by the talented artisans of Project Três.
Ethically made in India and embroidered by Neeta, Bhageshwari, Riya and Priyatama
Screen-printed by Freeset Global, a social enterprise in Kolkata that provides sustainable employment to women rescued from sex traffic.
100% organic cotton
Available in S, M, L and XL (check the measurement guideline below)
Our products support the creation of sustainable and meaningful job opportunities in India and Kenya.
Each of our designs is produced and packed with love and care, ensuring it stays safe and sound on its journey from our home to yours. Each order includes a sticker and postcard with information about Project Três and the artisan who made your item. Delivery time depends on your location and shipping method.
Measurement guideline:
Chest:
S = 45.5 cm
M = 47.0 cm
L = 50.0 cm
XL = 52.5 cm
Bottom:
S = 47.0 cm
M = 50.0 cm
L = 52.0 cm
XL = 55 cm
Length:
S = 67.0 cm
M = 68.5 cm
L = 69.5 cm
XL = 71.5 cm
MALE:
Chest:
M = 55.0 cm
Bottom:
M = 52.5 cm
Length:
M = 75.5 cm
Source: Project Três
No extra information available. Check the store/brands tab for more details!
Project Três is an initiative to promote the economic development of women in India, Kenya and Bangladesh with beautiful, artistic items.
Fair trade: Project Três produces in India, Bangladesh and Kenya. All items are made fair trade and some from upcycled materials. As Project Três is not just a brand, but a non-profit organization, they don't only pay fair wages, but also provide their entire team (legal) support in case of abuse, violence, divorce, healthcare, education and financial assistance in case of crisis. Project Três' t-shirt supplier is GOTS certified, which also means good working conditions.
Environmentally friendly: Project Três works with organic cotton, upcycled materials from beads to fabrics and sustainable Aloe Vera fibres. The dyeing process in India and Bangladesh is natural and free from toxic substances.
Good cause: Project Três looks at what their employees need in terms of development and support. Their main concern is to make women and their children more independent. Here you can see exactly what Project Três has achieved with their initiative!
Practical information
Shipping cost: £12.04 in the UK.
Customs and Duties: The products are shipped from Germany and you might have to pay taxes or duties upon arrival of your order.
Delivery time: Most products will be shipped the same day, some products still need to be produced and then it can take up to two weeks.
Address: No physical store.