Sustainable Dungarees: Best Brands & How to Style Them
When you pick a pair of sustainable dungarees, you're taking not one, but two steps towards a more eco-friendly wardrobe.
First of all, you're obviously choosing an item involving more sustainable fabrics than fast fashion alternatives and made by workers who are paid fair wages.
But that's not all.
Dungarees are also the perfect garment to remix your clothes.
How to style sustainable dungarees to create different outfits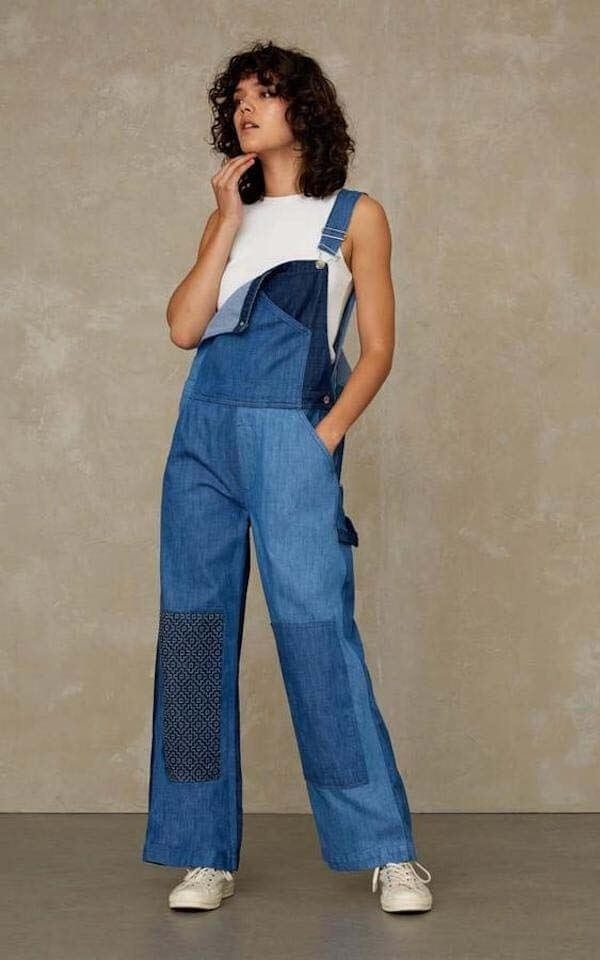 Because dungarees rely on layers, they give you the opportunity to wear the same garment with a variety of tops and accessories across different seasons.
This will make it easier to fall in love with your existing clothes instead of being tempted to buy many items that you won't actually wear that often.
So, how can you style your sustainable dungarees?
Well, off the top of our heads, we'd say you can wear them with:
A long-sleeved top showcasing stripes or a pattern, especially if your ethical dungarees involve a monochrome or denim design
A monochrome top: this is a versatile option for both basic dungarees and those involving some kind of pattern or prints
A turtleneck, which gives you a chance to showcase a necklace, too
A shirt
A t-shirt in spring
A crop top during the hottest summer days
A jumper in autumn or winter (very vintage!)
A hoodie for a casual, sporty, or streetwear vibe
A sleeveless top for even more of a carefree and casual feel
Additional layers on top, like a cardigan or a stylish jacket
Only one strap
Tying a shirt or long-sleeved top around your waste
If you opted for short dungarees, you can experiment with tights in different colours, too
Not bad for a single garment, huh?
Best sustainable dungarees by different ethical brands on Project Cece
Now that you know how to unlock the potential of sustainable dungarees, let's help you find the right design for your style and ethos.
Stephastique - sustainable dungarees with bold patterns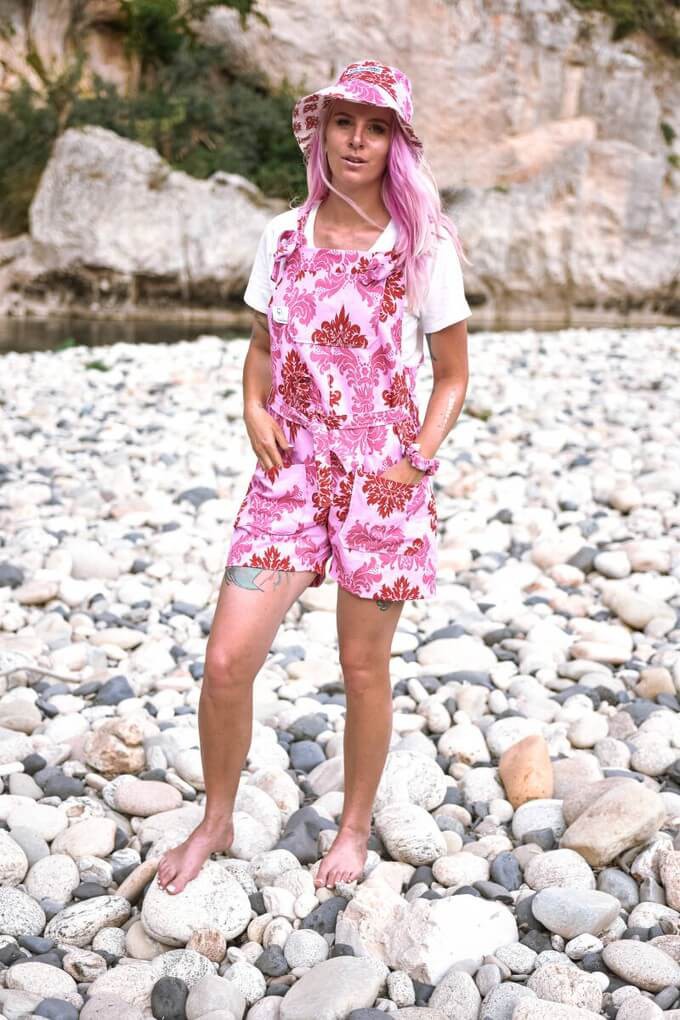 If you don't want to make the coolest statement, look elsewhere, because Stephastique's dungarees are guaranteed to turn heads whenever you walk down the street.
This brand mainly relies on deadstock fabric, meaning that each design is a limited edition with unforgettable patterns and prints.
To avoid a busy look, we recommend wearing them with monochrome tops and t-shirts so that the focus stays on the actual sustainable dungarees.
Baukjen - eco-friendly dungarees in different colours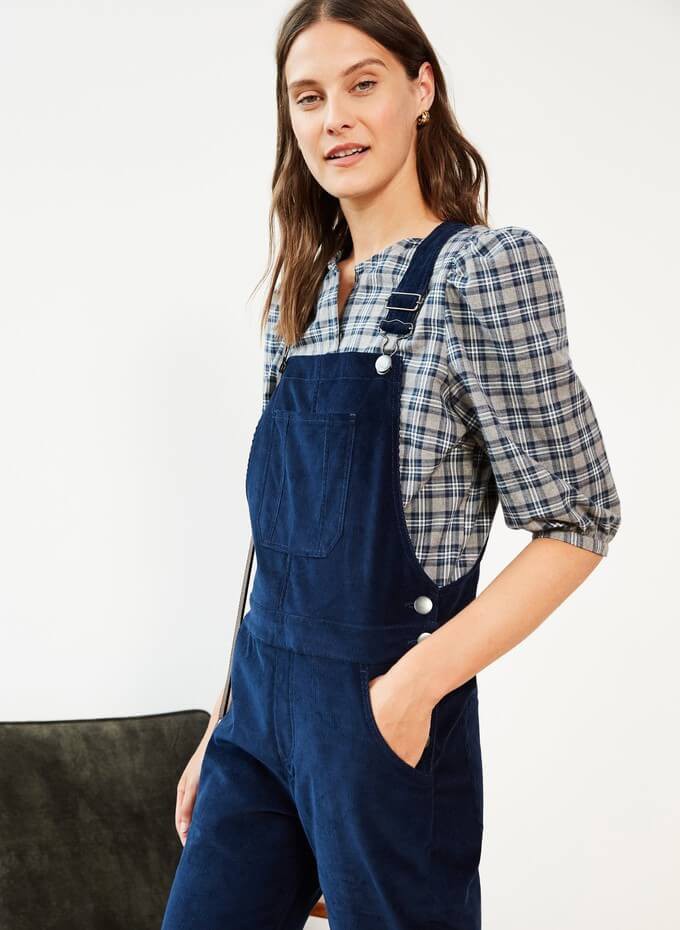 This brand uses organic cotton to create sustainable dungarees in denim or monochrome styles.
As well as choosing eco-friendly materials, Baukjen is vegan and produces its clothes ethically, locally (in Europe), and with lower carbon emissions and water usage than most brands.
Mud Jeans - best ethical denim overalls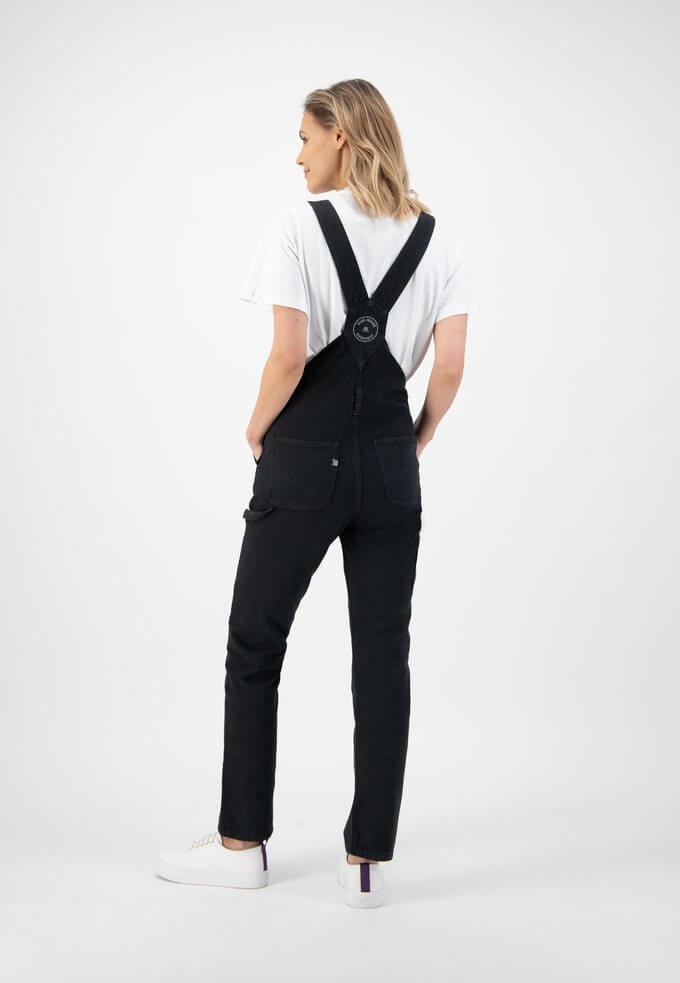 If you're after a classic, iconic pair of denim dungarees, look no further than Mud Jeans.
Their garments are basic and versatile, which makes it a breeze to wear them with a huge variety of tops and layers.
Their ethical denim overalls involve both organic and post-consumer recycled cotton, and they're made in a factory that relies on a closed water loop: basically, they recycle 100% of the water they use!
People Tree - timeless ethical dungarees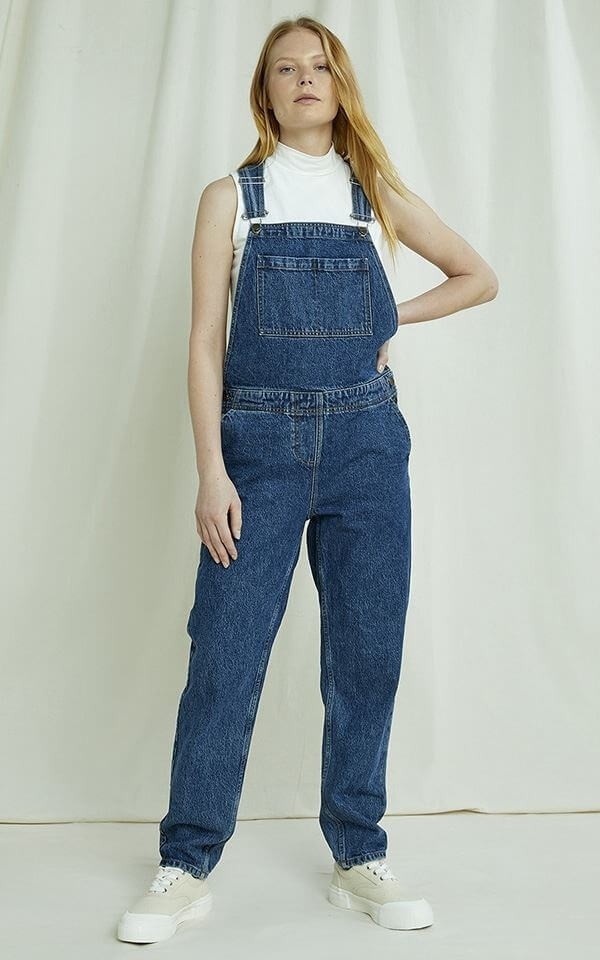 The popular fair trade giant includes a couple of sustainable dungarees in its wide range.
Rather than following ephemeral trends, they're versatile, timeless, and made with organic cotton.
Because our platform brings hundreds of ethical fashion brands in one place, you can discover even more sustainable dungarees on Project Cece. Ready to level up your ethical wardrobe as you layer up?
---
Maintain your signature ethical style when the temperatures get lower. Here are 9 layered outfit ideas to repurpose your garments creatively & keep warm.
When you learn how to create a sustainable wardrobe, you'll never find yourself complaining that 'you have nothing to wear!' Let's get started.
Did you know that an average pair requires 7,000 litres of water? Here are the best ethical jeans brands for a more sustainable but super stylish denim model.
Project Cece is a platform that collects ethical clothing from different webshops on one website. Take a look in our shopping section and find the clothing that fits your style, budget and values!