Best Vegan Belts & Sustainable Leather Belts (+ How to Choose)
Well done for not forgetting about accessories while working towards a more ethical wardrobe!
If you follow a plant-based lifestyle, it's a no-brainer: scroll down to find some of the best vegan belts.
Trying to figure out whether it'd be more eco-friendly to get a sustainable leather belt or a vegan option? Let's see.
What's more ethical: vegan belts or sustainable leather belts?
We'll be honest: the real vs vegan leather comparison is tricky!
Vegan leather belts
Being cruelty-free, they're more ethical because they don't involve animals. However, they're not always more sustainable
In fact, they're usually made with plastic-based leather like PU or (worse!) PVC. They're derived from fossil fuels, have an extremely polluting production process, and aren't biodegradable
Even fruit-based vegan leather tends to include plastic coating
Plus, in most cases, it's less durable. So, buying several vegan leather belts and replacing them regularly is actually bad for the planet
If you opt for one, try and avoid PVC, and look after it to help it last longer.
Real leather belts
The most sustainable leather belts are made using scraps or vegetable tanning rather than chemicals.
Best vegan belts: stylish & cruelty-free
We're pretty sure you're gonna LOVE these brands' range.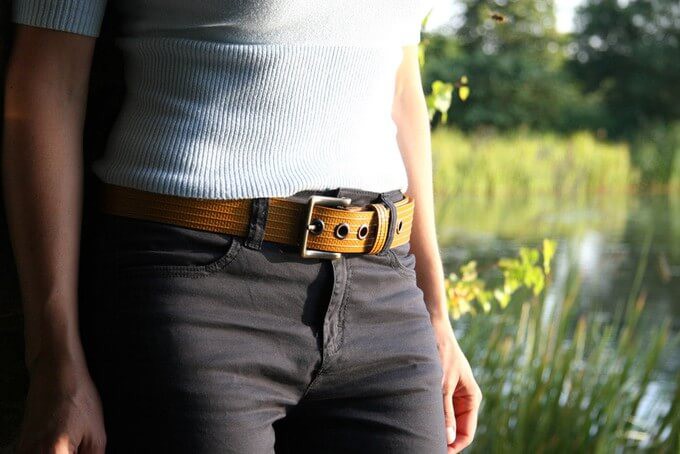 Even though they include a few real leather options, this brand offers a small but impressive range of vegan belts, too.
The best part? They're made using scraps and repurposed materials that would otherwise end up in landfills, like recycled fire hose.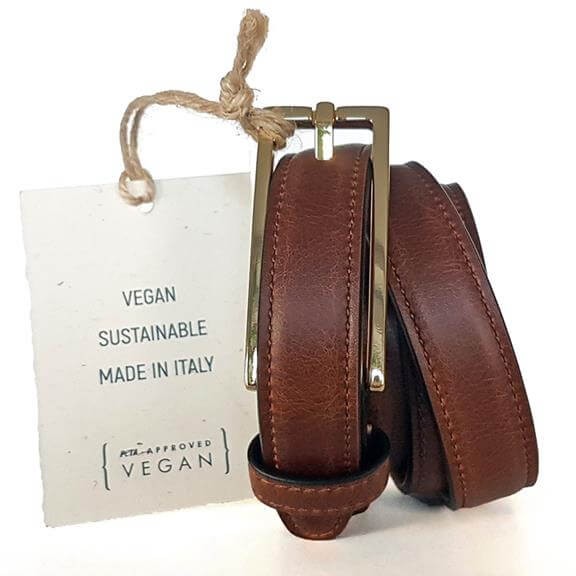 When it comes to shoes and accessories, 'made in Italy' is usually synonymous with real leather. Instead, this brand specialises in a corn-based alternative!
Its range of vegan belts is mostly unisex and includes both versatile and eye-catching colours.
This Indian clothing brand prioritises locally sourced handloom cotton, using it to make iconic vegan belts in unique, patched designs. Every piece is literally one of a kind!
We especially recommend these belts to go with monochrome dresses and to make an unforgettable statement.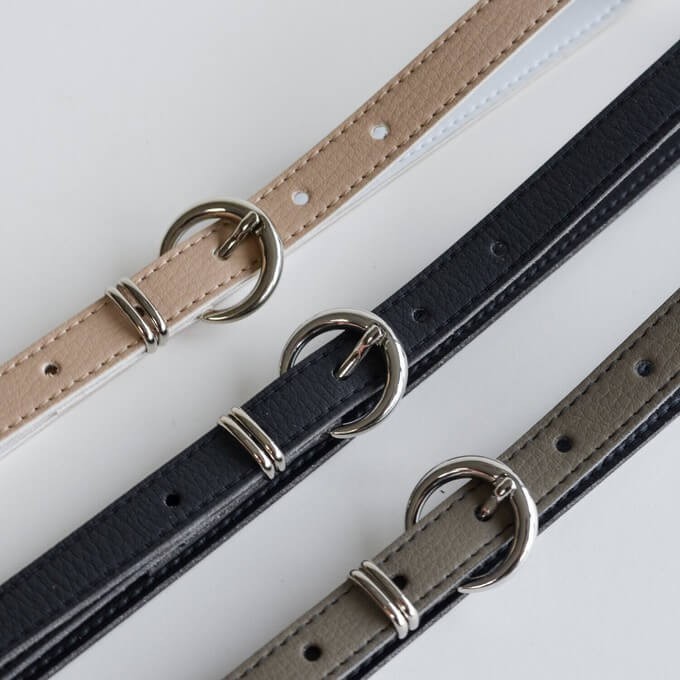 This brand's vegan belts involve post-consumer plastic or fruit-based leather.
MADE out of also finds different ways of making them even more eco-friendly, like sourcing their materials locally and using plastic-free packaging.
They do occasionally use recycled leather, too. So, if you're vegan, make sure you check each product description.
Best sustainable leather belts: timeless & long-lasting
Looking for an extremely durable option made as sustainably as possible?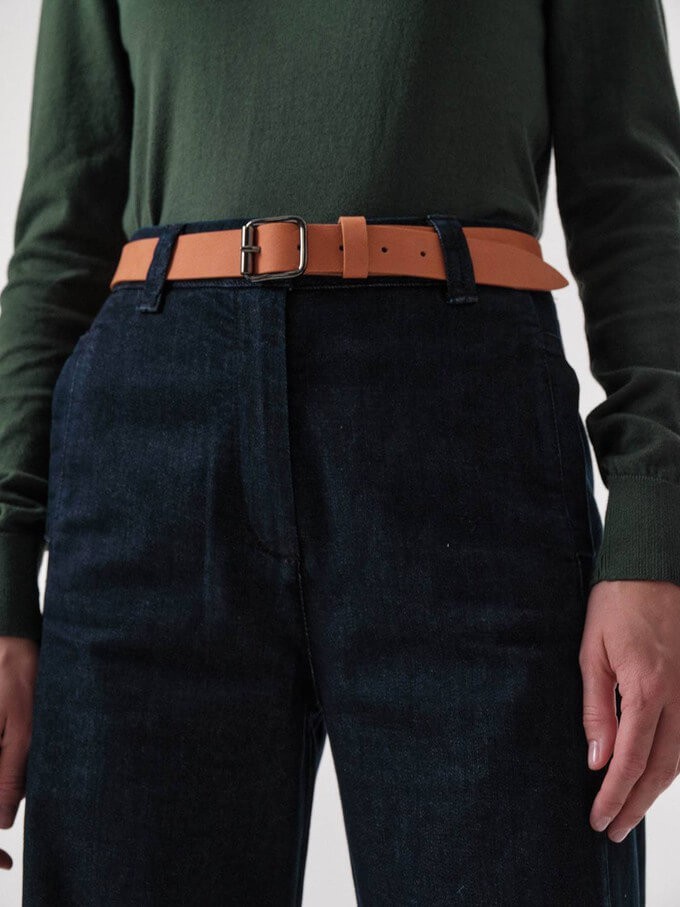 Relying on a climate-neutral production process in Italy, this brand spoils you with a wide range of sustainable leather belts, all vegetable tanned.
This includes both traditional models and more stylish and creative ones in unusual hues.
Finding more sustainable leather & vegan belts on Project Cece
We've brought together hundreds of fair trade brands in one place. Most importantly, we've added filters to help you narrow down your choices.
Lots of clothing brands only offer a couple of ethical belt options, but you'll see them all in one section: no more browsing twelve open tabs in one go!
From colours to whether they're vegan belts or sustainable leather belts, you'll also get to focus on what matters the most to you personally.
Browse them in our womens and menswear section.
Finding the right sustainable belt will definitely help you tie your ethical outfits together!
---
What else should you avoid? Are cruelty-free clothes always sustainable? And where can you find them? Our vegan fashion guide has all the answers!
Bad news: it's not a one-word answer. Good news? We've created a simple real leather vs vegan leather comparison to help you make the right choice for YOU.
First time hearing about pineapple leather? We were surprised, too! Discover whether or not Piñatex can be considered a sustainable type of vegan leather.
Project Cece is a platform that collects ethical clothing from different webshops on one website. Take a look in our shopping section and find the clothing that fits your style, budget and values!