Best Sustainable Wallets & Purses: Be Mindful with Your Money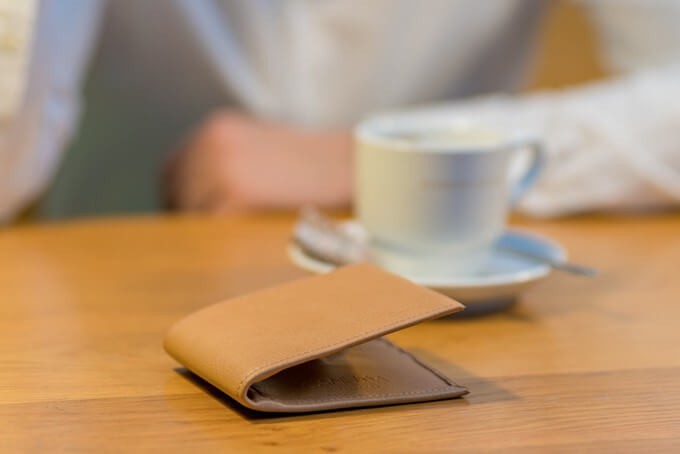 As well as voting with your money by choosing eco-friendly clothes and accessories, why not carry it in a sustainable wallet, too?
Enough with the most polluting chemical-based leather designs or those fast fashion options that fall apart after a few months. Instead, an ethical wallet is probably the accessory that's still missing from your green lifestyle.
To help you find it, we've compiled a list of brands offering some of the best sustainable wallets for men, women, and unisex options.
But, first, here's how to choose the right one for your ethos.
What are the best sustainable wallets made of?
Most of these sustainable wallets are made of:
vegetable-tanned leather instead of the traditional chemical-based (and more polluting) tanning process
recycled leather, which bypasses the initial production stage and helps reduce waste
vegan leather, which can be considered more ethical since it's cruelty-free. However, it's not always more sustainable than real leather: it usually involves plastic and is less durable, meaning more waste in the long run. If in doubt, you can check out our leather vs vegan leather comparison to find the best sustainable wallet material for you
Plus, some brands have found different creative ways of making their wallets and purses more sustainable, like using upcycled materials.
4 of the best sustainable wallet brands and collections
Here are some of the brands offering the largest or most eye-catching ranges of vegan wallets, vegetable-tanned leather options, and more.
1. Elvis & Kresse - sustainable wallets made with creative materials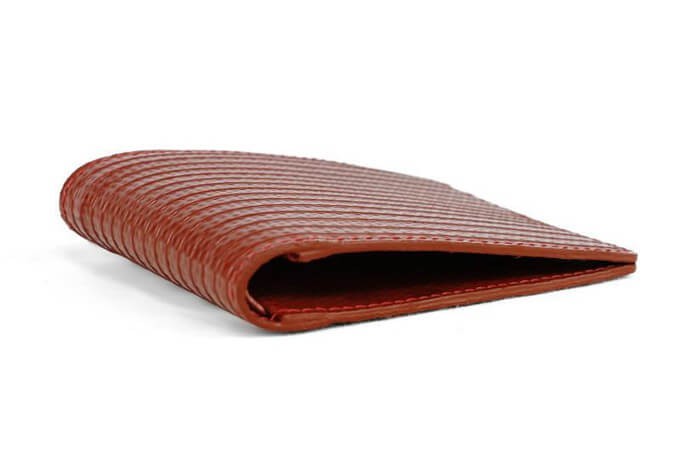 This brand specialises in making bags from 15 types of repurposed materials, ranging from fire hoses to tea sacks (how cool is that?!).
They also offer quite a few sustainable wallets and purses, and they include both recycled leather and vegan options.
As if that weren't already impressive enough, Elvis & Kresse donate half of their profits to charity.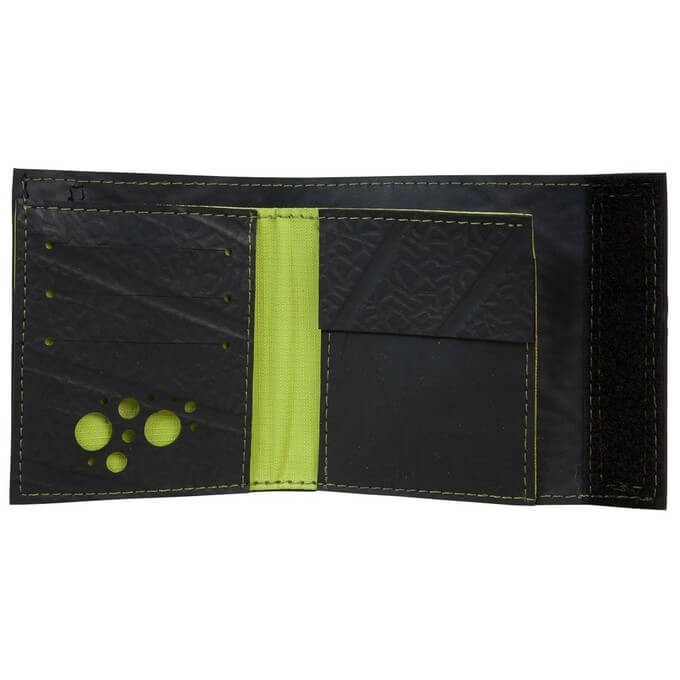 Ready to impress everyone with a stylish leather-looking wallet made from.. upcycled inner tubes?
This brand saves the most creative materials from landfills and turns them into attention-grabbing items and conversation starters.
Luckily, they have a pretty wide range of sustainable wallets, too.
3. Canussa - best vegan wallets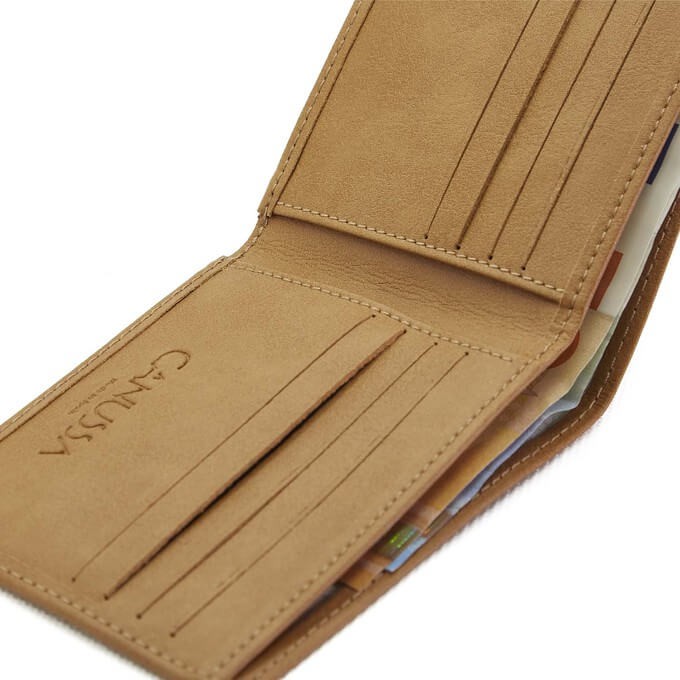 This vegan bag brand from Spain has a small but charming range of sustainable wallets, too.
Stylish and versatile, they're made by experienced artisans in Spain using OEKOTEX-certified vegan leather.
This means it's free from toxic substances and much better for the planet.
4. MADE out of - recycled and eco-friendly wallets and accessories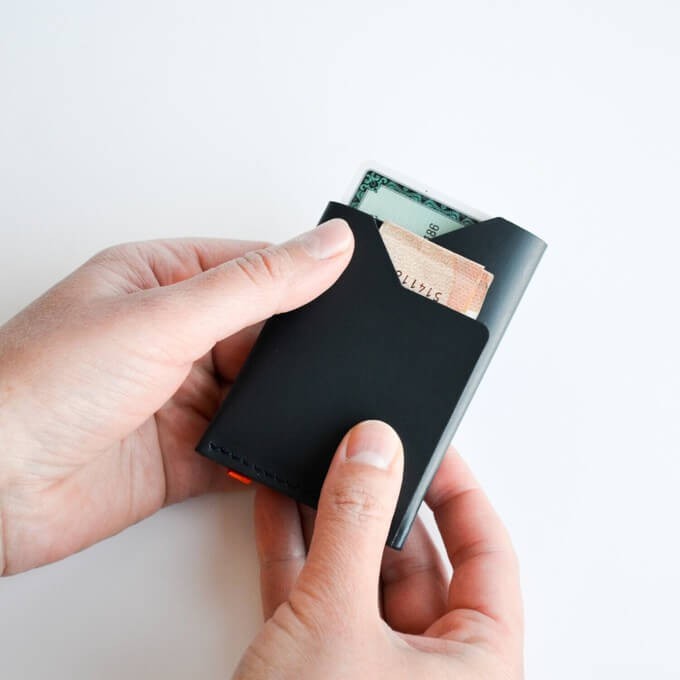 This brand offers an impressive range of document holders and similar accessories involving different ethical materials.
For example, some of them are made with recycled leather, some others with PU leather, and some of them include recycled cotton. This extremely resourceful brand also uses natural binders and upcycled materials.
You'll find both neutral and more colourful models. So, it'll be a breeze to complement your own style!
Find more eco-friendly or vegan wallets and sustainable purses on Project Cece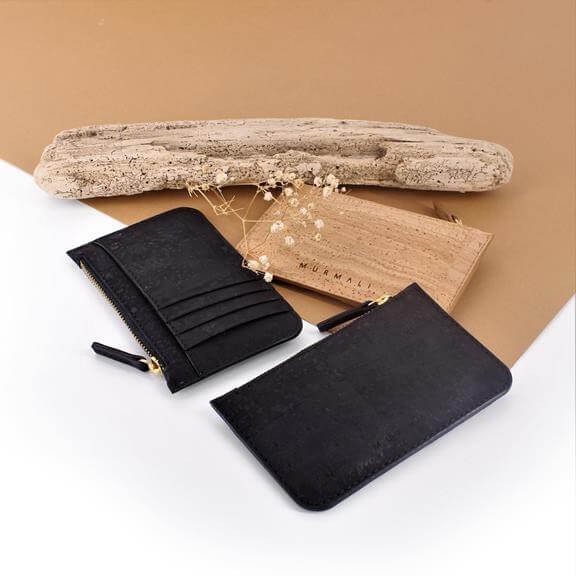 Here's the thing with sustainable wallets: it's hard to find an ethical brand that specialises in them.
Usually, it's larger clothing or accessory brands (bags in particular) that include a couple of purses or wallets as options.
We know what you're thinking, though: "how can I find them if they're scattered all over the web?"
We've got you. We've done the hard work so that you can browse hundreds of sustainable brands in one place.
At Project Cece, we're a search engine for ethical fashion. We've also included filters to narrow down your choices.
Most of these sustainable wallets are unisex, but you can find them in the womens and mens section, too.
Being mindful with how you use—and where you put—your money has never been easier!
---
Accessories make all the difference! Keep yours ethical with a vegan belt or a sustainable leather one. Find out which type is more eco-friendly, too.
Bad news: it's not a one-word answer. Good news? We've created a simple real leather vs vegan leather comparison to help you make the right choice for YOU.
First time hearing about pineapple leather? We were surprised, too! Discover whether or not Piñatex can be considered a sustainable type of vegan leather.
Project Cece is a platform that collects ethical clothing from different webshops on one website. Take a look in our shopping section and find the clothing that fits your style, budget and values!