Recycling in Fashion: Can It Solve Its Environmental Problems?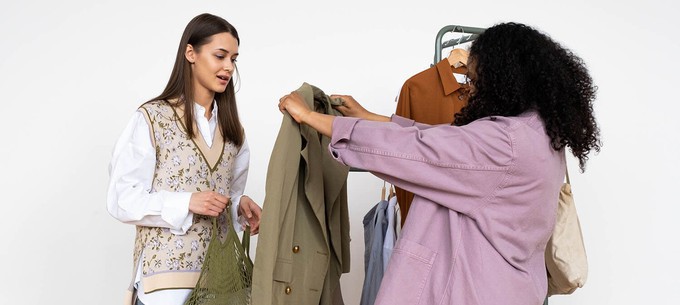 You keep hearing about recycling in fashion, but what does it actually mean?
And most importantly: is it the right solution to the terrible environmental impact caused by the clothing industry?
Let's find out.
What is recycling in fashion?
Recycling in fashion (also known as "textile recycling") means recovering existing fabrics, materials, or fibres to create new products.
It's actually nothing new: manual textile recycling has been around since the 18th century! Nowadays, however, it's mainly done mechanically—especially for natural fabrics—and chemically—mainly for synthetic options.
Recycling in fashion can also take different forms, from making new garments using deadstock fabric to offering a take-back scheme to prevent old clothes from ending up in landfills.
But is recycling clothes as good as it sounds?
The environmental benefits of recycling in the fashion industry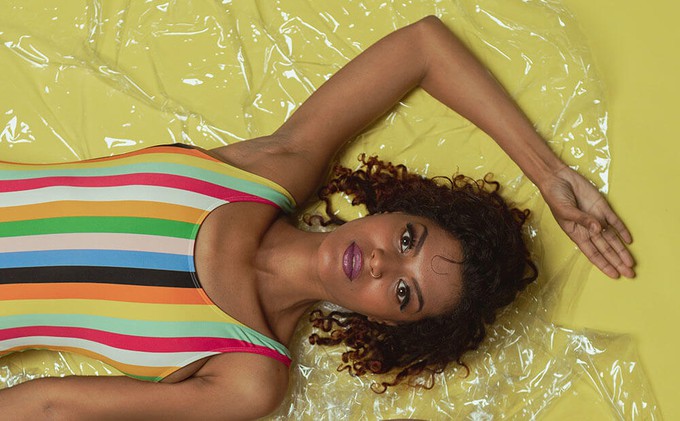 Recycling clothes prolongs their lifecycle and reduces waste
18.6 million tonnes of clothes are sent to landfills every year! Once they start to decompose:
Natural fabrics produce methane and other greenhouse gases, which contribute to climate change
Synthetic fabrics can hang around for centuries
So, recycling clothes and delaying this final outcome is definitely good news.
It means we need less new fabric
Material production is usually the most polluting stage of a fashion supply chain.
So, bypassing it by using recycled textiles instead of newly manufactured fibres will save both energy and water.
In many cases, it'll also remove the additional dying process, which is a big cause of water pollution and often involves toxic dyes.
Brands and designers are coming up with new ways of reducing the environmental footprint of textile recycling
More and more recycling fashion designers, brands, and companies are perfecting this process. For example:
Renewcell created Circulose, a natural and biodegradable material entirely made from recycled textiles, like cotton production scraps and old cotton jeans
Worn Again is finding ways of recycling blended fibres (for example, by recapturing polyester and cotton from polycotton clothing blends)
So, we're confident we'll see even more environmental benefits in the future.
The problems and challenges of recycling in fashion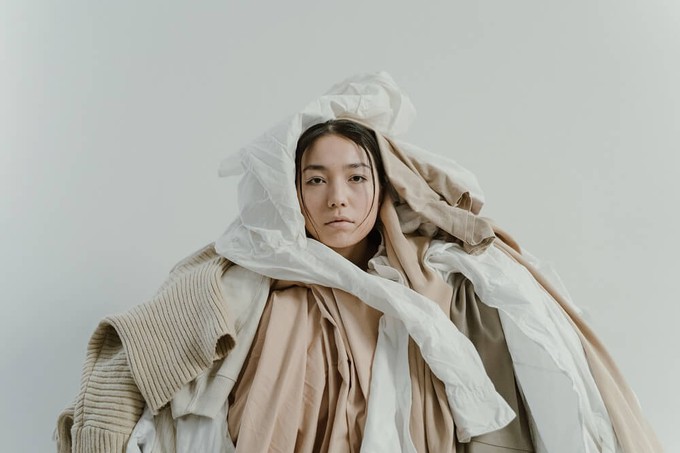 Clothes are hard to recycle—and it wouldn't be enough anyway
Unfortunately, recycling in fashion is a challenging process. For example:
It's often impossible to recycle blends, which are extremely common in fast fashion
The use of certain chemicals makes this option even less likely
When recycling cotton mechanically, the fibres become shorter and lower-quality—so, they last less
The main problem is that most garments are not made for recycling… and there's too many to begin with.
200 billion clothes are sold every year and only worn 7 times before being discarded. How many of these get recycled? Less than 1%.
Recycling clothes still has an environmental impact
Recycling in fashion and relevant closed-loop processes also involve greenhouse gas emissions and high water usage.
Don't get us wrong: it's definitely better than producing new materials and fabrics from scratch!
Unfortunately, however, this difference doesn't seem to be enough to slow down fashion's negative impact on climate change.
Recycling leaves room for greenwashing
Greenwashing happens when brands use misleading or false information to make their products seem environmentally friendly and appeal to eco-conscious consumers.
When it comes to textile recycling, this can involve:
Clothes being marketed or labelled as "recycled" when they only involve a small percentage of recycled fibres—and the rest was actually produced from scratch
Fast fashion brands having a "recycled clothes collection" while still using problematic materials for most of their garments and encouraging overconsumption
Brands claiming to use deadstock fabric that was actually overproduced on purpose instead of being genuine scraps
So, is recycling in fashion the ultimate solution for the planet?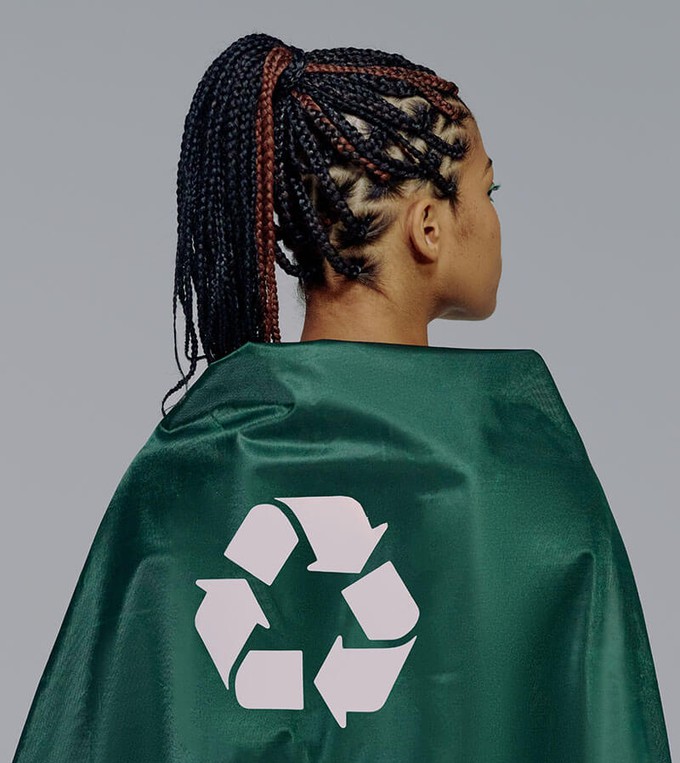 No, we don't believe that recycling is the ultimate solution to solve the environmental problems caused by the fashion industry, but it's certainly better than nothing!
After all, recycling is part of the 6 R's of sustainability in fashion. There's a reason why it's the last one, though.
Instead of just focusing on recycling in fashion and creating closed-loop solutions for existing clothes, at Project Cece we believe it's important to:
Design clothes for recycling and circularity in the first place, like choosing single materials and using chemicals that don't compromise that process
Prolonging the lifecycle of clothes by keeping them in circulation for longer (for example, through collection schemes)
Most importantly, producing fewer clothes to begin with. As we've seen before, we only recycle 1% of the 200 billion clothes sold every year. The solution isn't to increase the first percentage: it's to reduce the second number!
Supporting recycling fashion brands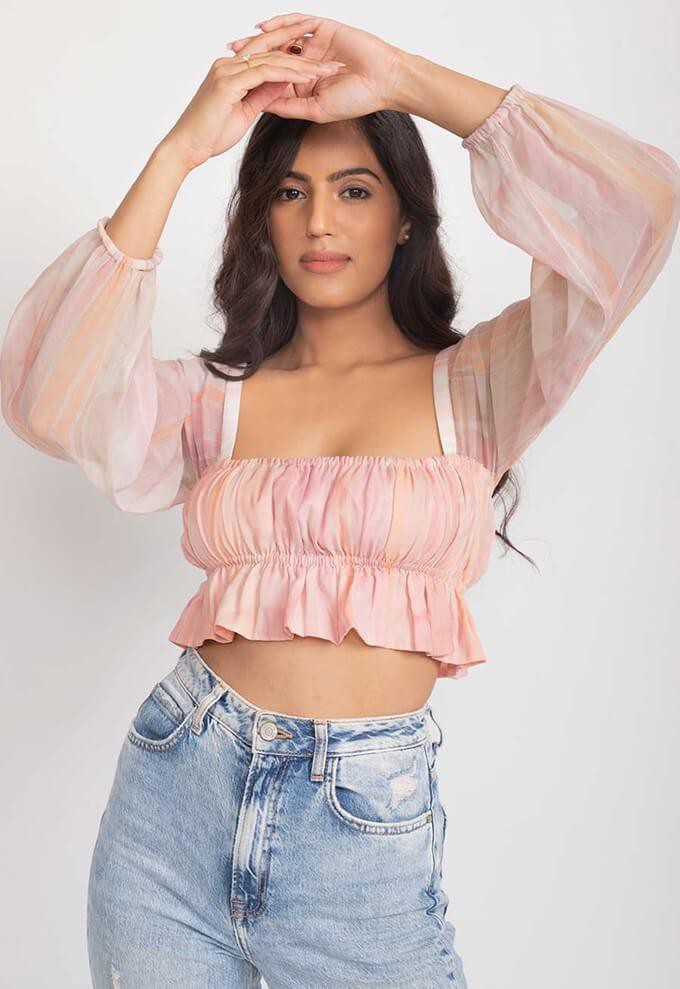 At the same time, choosing garments made from recycled textiles can help you reduce the environmental footprint of your clothes—as long as they were genuinely produced that way and not through some dodgy greenwashing shortcuts.
On Project Cece, we've brought hundreds of fairtrade brands in one place, adding filters to help you narrow down your choices. So, select "Recycled materials" to focus on these types of garments.
While recycling in fashion isn't the ultimate solution, it's definitely a step forward when done right. We still need to tackle overproduction and overconsumption too, though.
Found this helpful? Start receiving our tips and inspiration to make even more sustainable fashion choices.
---
Does using plastic bottles and fishnets make this material more sustainable? Let's look into virgin polyester vs recycled polyester clothing to find out.
What's the difference between recycled fabrics & upcycled clothes? Most importantly, are they as sustainable as they sound? Let's find out!
Many companies pride themselves in using leftover textiles, but is deadstock fabric as sustainable as they claim or just another form of greenwashing? Let's see.
Project Cece is a platform that collects ethical clothing from different webshops on one website. Take a look in our shopping section and find the clothing that fits your style, budget and values!