How to Host a Clothing Swap Party: Have Fun, Help the Planet
Bringing your friends together and getting new clothes for free: can it get any better? It can, actually! A clothing swap party makes a positive difference for the environment, too.
If you've never organised one before, however, the idea of putting one together might feel a bit (err, very) overwhelming.
So, here's exactly how to host a clothing swap party that's both fun and productive.
How do clothes swap parties work?
Clothing swap parties can work in different ways depending on how you choose to organise yours.
Overall, they rely on a simple—and exciting!—premise: attendees bring clothes they no longer wear, and they get to pick others to take home.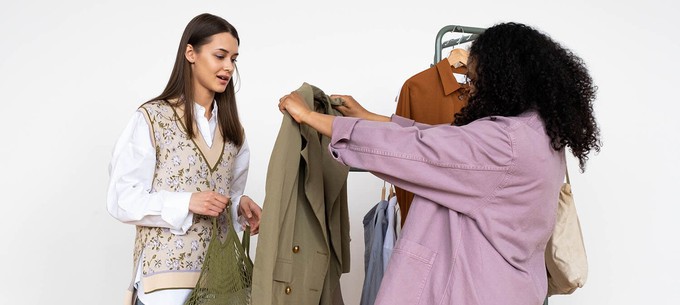 Why host a clothing swap party?
First of all, it's fun: a clothing swap is something different to try with your friends
You—and all your attendees—will get "new" clothes for free and save money
You'll freshen up your wardrobe while getting rid of items you no longer wear, but without binning them
A clothing swap party is excellent news for the planet, too
Why is hosting a clothing swap party good for the environment?
Clothing swaps allow you to reduce both your carbon emissions and clothing waste:
Nowadays, we only wear our clothes 7 times, and this leads to 18.6 million tonnes of textile waste… every year!
Donating clothes isn't the ethical and eco-friendly solution we'd like it to be (only 20% are actually sold, and the rest goes through additional packaging, transport, and carbon-heavy processes)
Because you'll bag yourself some pre-loved pieces, a clothing swap party bypasses the carbon emissions produced when creating new garments
5 steps on how to host a clothing swap party that's fun, productive, and sustainable
Even if you've never done this before, your first event can be an absolute success—as long as you plan it properly and avoid common mistakes.
So, here's Project Cece's step-by-step guide on how to organise a clothing swap party.
1. Decide how big your clothing swap party will be—and choose the right space
A clothing swap party with your close friends: you can easily plan it in your living room, garage, or a sheltered outdoor space (just in case the weather changes). If this is your very first time organising a clothing swap party, we recommend starting with this option
A bigger clothing swap event: you can hire a space like a church, community centre, cafe, or recreation room. It's not a given, but some venues might let you have it for free if you're planning on donating your leftover clothes to charity
2. Come up with some clothing swap party rules
Trust us: you will need them!
You don't want people to show up with a couple of dreadful, low-quality garments and leave with a dozen premium ones. And you also don't want to be left with hundreds of clothes to deal with.
Your party, your clothing swap rules, but here are some ideas:
Encourage a quality over quantity mindset, and tell your guests how many items (both clothes and accessories) they should bring. Between 5 and 10 tends to be a popular option for most clothing swap parties
Only allow garments that are in good condition: no rips, stains, and missing buttons or zips
Unless you're hosting a themed clothing swap party, ask your guests to stick to more generic and versatile pieces, and specify what isn't allowed (like kids clothes or underwear, for example)
All clothes should be pre-washed
To organise a more sustainable clothing swap party, attendees should bring their own reusable shopping bags
Consider making it a potluck event: guests should bring snacks and drinks
Plan exactly how your clothing swap party will work. For example, you could have a token-based system: if someone brings 6 items, they get 6 tokens and can take home up to 6 pieces. Another common clothing swap party rule is to divide your friends into groups and assign a timeslot to each. Then, they can pick a number to find out who gets to go first in that group, and maybe each person can only pick up to 2 items during their first round. Finally, you can decide whether your attendees are allowed to take additional leftovers once everyone has had a chance to go through the clothes multiple times
3. Send your clothing swap party invitations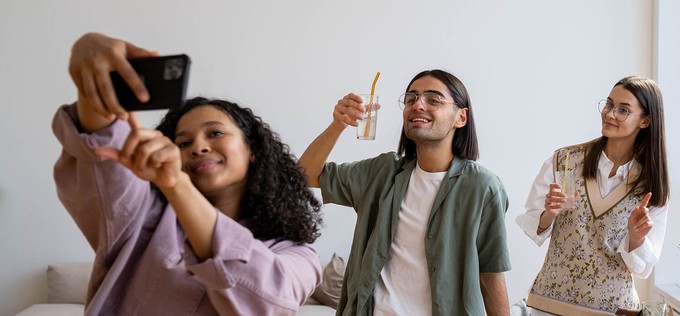 Depending on the size of the event, you could do so via:
Group chat
Facebook event
External websites like eventbrite.com
Aim to send out your clothing swap party invitations at least 2 weeks in advance (that way, your friends will have time to go through their clothes and wash them) and include:
The event date and time, place, and RSVP date
Your clothing swap party rules
We also recommend inviting a wide variety of friends, from style to shapes and sizes.
Oh, and encourage them to wear comfy clothes so that it'll be easier to try stuff on!
4. Set it up properly, and have fun during the actual event!
For the actual clothing swap party, consider having:
Music
Additional snacks (and room for your guests to leave theirs)
A system to showcase all the clothes. Ideally, some hangers and rails. But if you haven't got enough, don't worry: a few tables will do. It might just be handy to use some cardboard signs to divide the clothes by style or size
At least one mirror
Room for people to try on the clothes (like your bedroom or a separate corner with a curtain)
To help everything run smoothly, you could leave the first half an hour for socialising and making sure everyone is there, and then start with the first slot.
And if you're only hosting a clothing swap party with a small group of friends, how about planning to do something else afterwards, like watching a film or grabbing a coffee?
5. Decide what you're going to do with leftover clothes
You could choose to:
Keep them for the next event if you've enjoyed this one so much that you're already thinking of hosting another clothing swap party
Let their original owners take them home
Sell them online if you've got your friends' permission
Donate them to charity (as we've seen before, it's not the most eco-friendly option but certainly better than binning them)
Now that you've learnt all about how to host a clothing swap party, we bet it's going to be the kind of event your friends will talk about for months. Good luck!
Found this helpful? Start receiving our tips and inspiration to make even more sustainable fashion choices.
---
Decluttering? Learn how to sell your used clothes online sustainably instead of throwing them away. Not sure how? Here are the best platforms and tricks.
Don't chuck them in the bin! Once you learn how to fix clothes, you'll never have to fear little stains and tears ever again. PS: no sewing machine needed.
Wait! Don't chuck it in the bin just because it's slightly damaged or you don't like it anymore. Wanna help reduce clothing waste? Here are some simple ideas.
Project Cece is a platform that collects ethical clothing from different webshops on one website. Take a look in our shopping section and find the clothing that fits your style, budget and values!