How to Buy Sustainable Clothes: 6 Questions Before a Purchase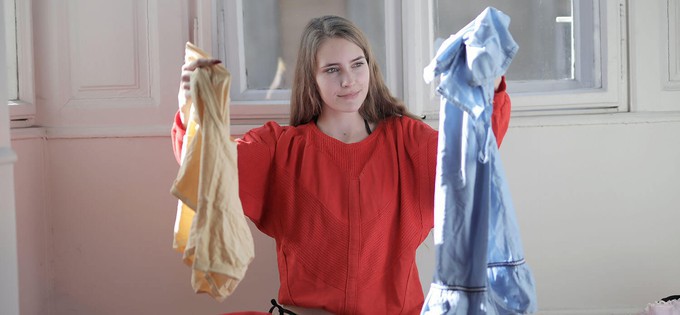 Only just started dipping your toes in the world of ethical fashion? Don't worry: you're not the only one to feel a little lost and overwhelmed at first.
Here's how to buy sustainable clothes without falling for greenwashing.
Beyond labels: your mindset can make sustainable clothing more or less eco-friendly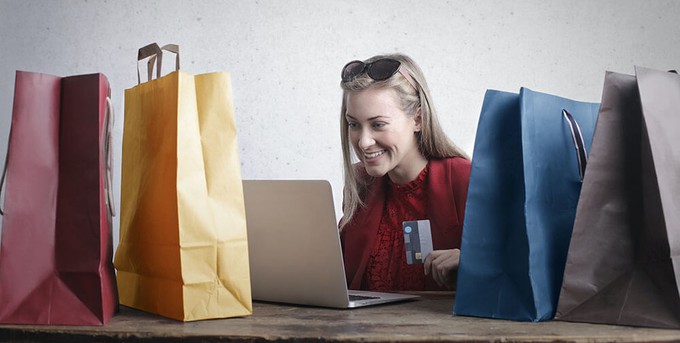 Choosing ethical brands is obviously key. You can't learn how to buy sustainable clothing if you're sticking to high street fast fashion chains!
However, your mindset is just as important.
Periodical hauls of ethically made clothes are still bad for the planet.
Learning how to buy clothes sustainably is also about putting quality over quantity and loving your clothes. No more treating them as disposable!
6 questions to ask yourself before buying sustainable clothing
Whether you're in a physical store or browsing online, here's what you can consider.
1. Do I actually need it?
This is one of the biggest mindset switches from fast fashion to buying clothes sustainably:
The former keeps you trapped in a vicious cycle: having to purchase new clothes for fun or to get a dopamine hit
The latter is about trying to only buy what you need
We're not saying you can't treat yourself, of course!
However, if you already have six pairs of trousers but only wear three, you probably don't need a seventh.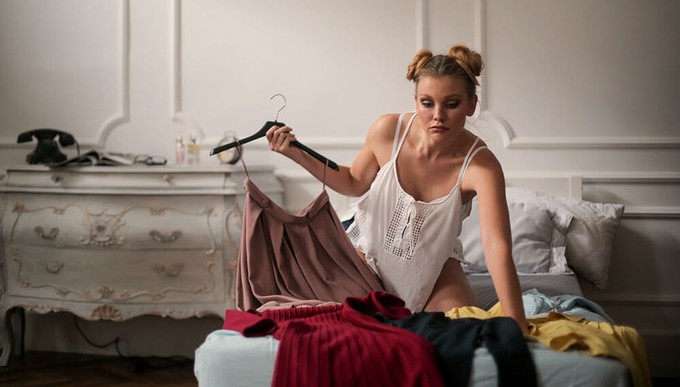 2. Does it match my style?
If you've already identified your signature fashion style, this will be easier.
If not, think of what type of clothes make you feel the happiest. Maybe there's a particular aesthetic you strive for, like dark academia, cottagecore, retro, grunge, and so on?
Either way, if an item looks appealing but does not match your style, the chances are… you'll get tired of it fairly soon.
3. Does it go with my other clothes?
Statement pieces and occasionwear aside, most of your garments should translate into different outfits.
For example, a versatile t-shirt has the potential of working with your jeans, trousers, shorts, skirts, dungarees, and even underneath a dress.
However, if it doesn't go with your existing colours, you'll struggle to find the right pairings.
And if you can't find the right pairings… yep, it'll end up on top of that dusty pile in the back of your wardrobe.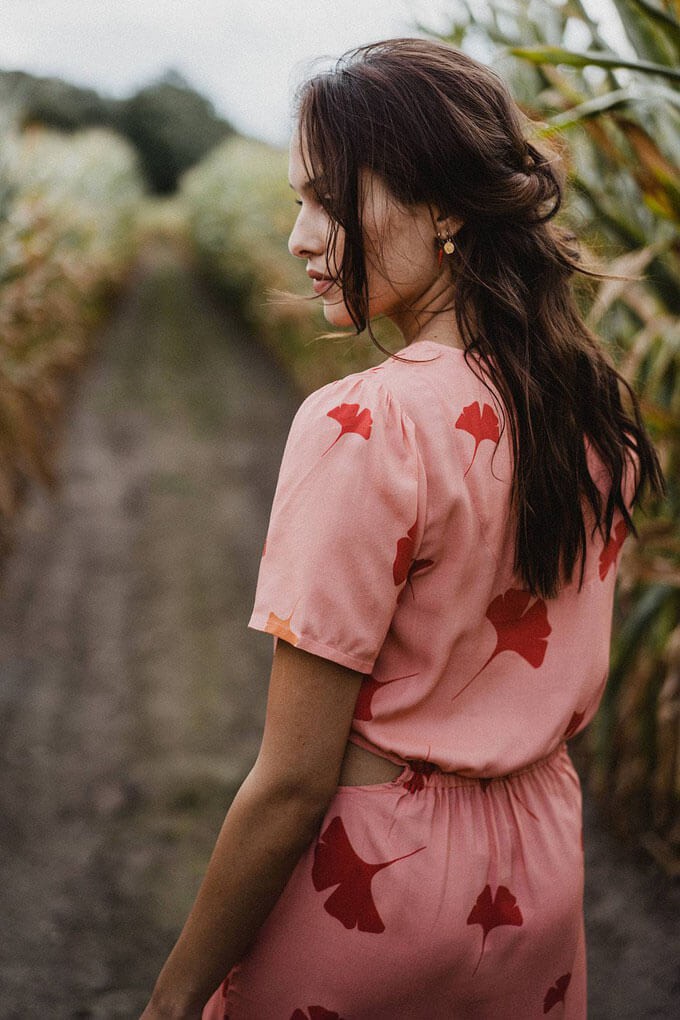 4. Will I wear it at least 30 times?
Buying clothes sustainably is not enough: you need to wear them often, too. Otherwise, you can't really justify the environmental impact of a new purchase.
Plus, its cost per wear will be much lower, especially when compared to cheaper fast fashion garments that break down after a few wearings.
So, to learn how to buy sustainable clothes, remember the #30WearsChallenge, too.
5. What material is it made of?
Check this garment's label or product description!
If it involves polyester (unless it's recycled) or traditional cotton, that's usually bad news. Yes, even the latter! Cotton actually has a terrible environmental footprint.
Whenever possible, look for the most sustainable fabrics: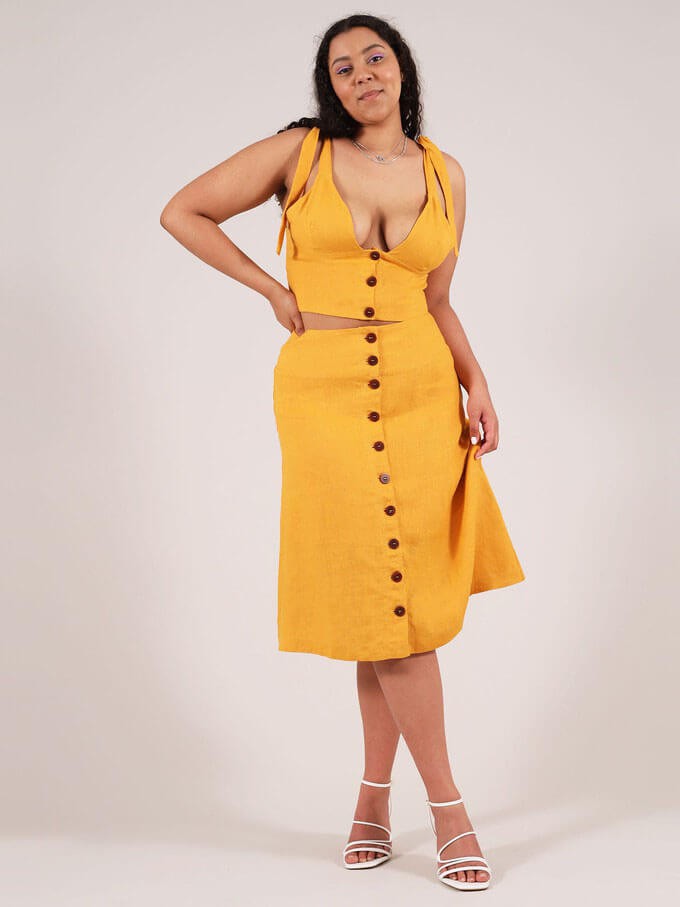 6. How and by whom was it made?
High street chains selling 'sustainable' collections, brands using vague terms like 'green'... It's easy to fall into the trap of greenwashing!
So, the final step to learning how to buy sustainable clothing is to find more information about that specific brand. Is it transparent about its production chain?
To make things easier for you, we've brought hundreds of fair trade brands into one place.
On Project Cece, you can use our filters to focus on the materials and ethical certifications that matter the most to you (and much more).
If you've found this helpful, start receiving more tips and inspiration on how to buy sustainable clothes and make more ethical fashion choices.
---
"It's fine: I'm giving them to charity! If that's how you've been justifying your hauls, we have bad news. Here's what happens after donating clothes.
What's the problem with fast fashion? What are ethical clothes? And where do I even START? Our beginner's guide to sustainable fashion covers all that for you.
Worried you'll fall for greenwashing? Tired of jumping from one online store to the next? We've got you. Here's how to find sustainable clothing in 3 easy ways.
Project Cece is a platform that collects ethical clothing from different webshops on one website. Take a look in our shopping section and find the clothing that fits your style, budget and values!