8 Fun Sustainable Fashion Activities: Turn Friends Into Activists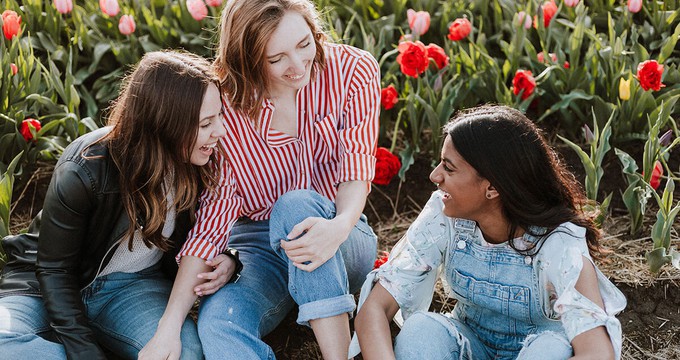 "Sustainable fashion is boring."
Well, we both know that's not true, but maybe your friends still think that?
That's pretty common, especially when you're the first in your circle to open your eyes to the horrors of fast fashion.
So, here are some sustainable fashion activities to show them this lifestyle isn't "just" more ethical: it's fun, too!
But before we get started…
Remember: break the ice tactfully
We'd NEVER recommend pressuring your friends into this conversation or shaming them for still buying fast fashion.
Instead, you can:
Lead by example: rock your favourite ethical outfits around them. When they compliment you (and we bet they will), mention those eco-friendly materials or how inspiring you find that sustainable brand
Keep privileges in mind: some people only buy fast fashion because that's all they can afford or because it tends to be more size-inclusive
Focus on the benefits of sustainable fashion, at least to begin with
You can follow our guide on how to talk about ethical fashion to your loved ones.
Now? The exciting part: suggesting some sustainable fashion activities to try together!
8 cool and enjoyable activities to introduce your friends to sustainable fashion
(We dare them to say "ethical fashion is boring" after giving these a go!)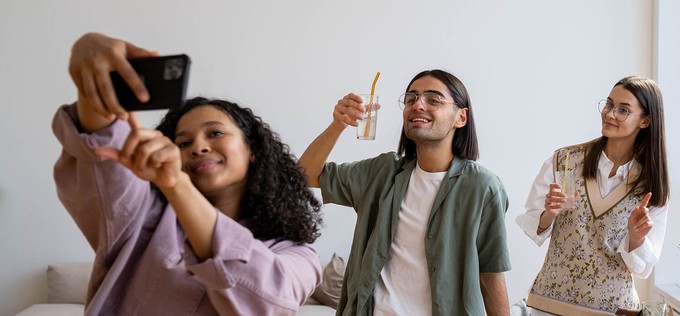 Perfect to freshen up your wardrobes—without adding to the 18.6 million tonnes of textile waste generated every year!
Come up with some rules. For example, you can ask your friends to bring between 5 and 10 items (which must be in good conditions) and create a token-based system
Send some invitations, including those rules
Consider turning it into a potluck event or even plan something afterwards, like grabbing a drink or watching a film
Set it up properly with at least one mirror and plenty of room to showcase all the clothes
Choose what you're going to do with your leftover garments: should your friends take them back, or will you be donating them to charity?
The most important part: have the BEST time!
2. Style each other using your existing wardrobes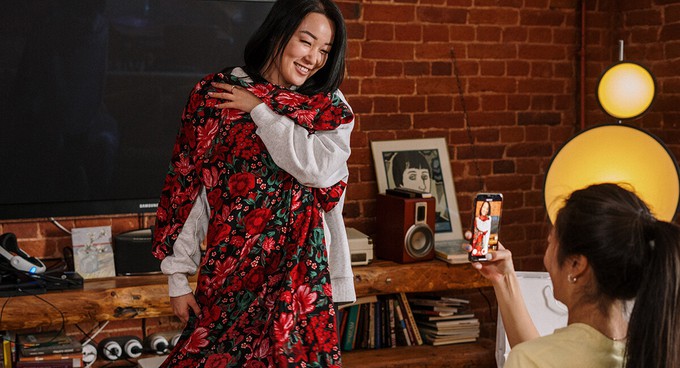 Many fast fashion enthusiasts keep buying clothes because they get bored of wearing the same outfits more than a couple of times.
Ironically, they're probably missing out on dozens of combinations!
For example, when you pair up the same dungarees with a beret and fancy top instead of the usual t-shirt, it'll look like a completely different outfit.
So, plan a fun evening with a sustainable fashion activity along these lines:
Each friend has to come up with a style and outfit for you using the items in your wardrobe
Channel your best Cara Delevingne , and do a catwalk (with music, of course!)
Don't forget to take photos
How about voting for the best outfit?
Next time, a different friend gets to be the host, and you all style them
3. Go to a repair cafe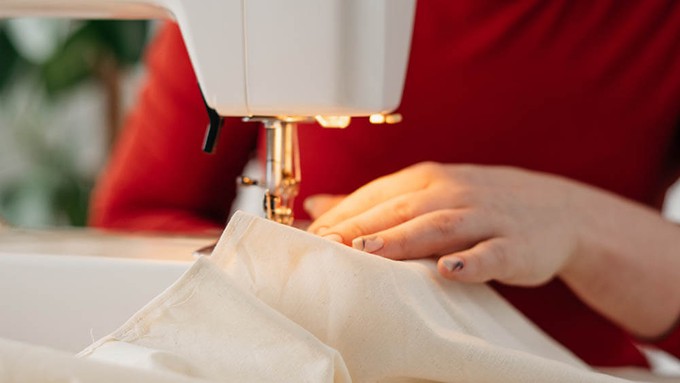 Fast fashion has brainwashed us into seeing our clothes as disposable: we only wear them 7 times on average!
And if something goes wrong, even if it's just the tiniest rip? Boom: straight in the bin.
Instead, learning to fix your clothes will reduce waste and your overall environmental footprint.
So, a sustainable fashion activity to do that together is to head to a Repair Café:
These are free meeting places—although voluntary donations can certainly make a difference—full of tools and materials to repair all kinds of items, including clothes
Their volunteers are ready to help
There are over 2700 Repair Cafés around the world and counting (so, hopefully, one in your area, too)
4. Plan a sustainable movie night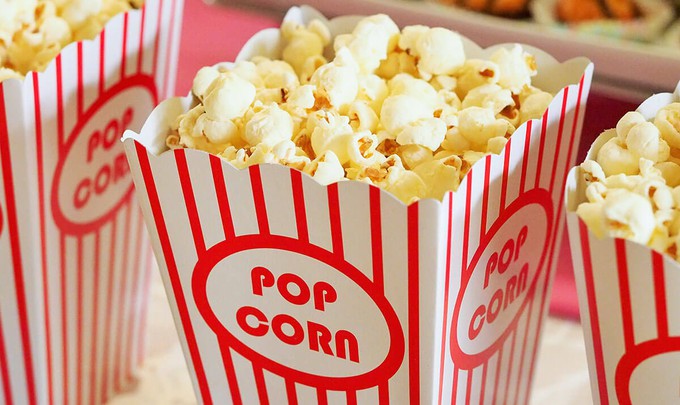 It's easier to embrace ethical clothes once you learn how detrimental fast fashion is for the planet and how its workers are trapped in modern slavery conditions.
So, you could recommend watching a film or documentary about it.
Here are some of the best fast fashion documentaries to get you started.
5. Organise an eco-friendly fancy dress event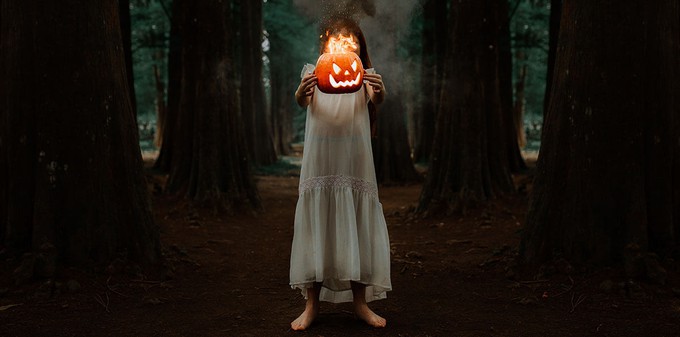 We LOVE fancy dress! But it's a shame how it usually results in a lot of waste. After all, most people tend to buy new garments and accessories… and then never wear them again.
So, instead:
Come up with a theme: maybe it's a fancy dress party for Halloween, a specific decade, or based on your favourite film
Turn it into a sustainable fashion activity by having one rule: everyone must use what they already own
Have fun getting creative!
6. Declutter together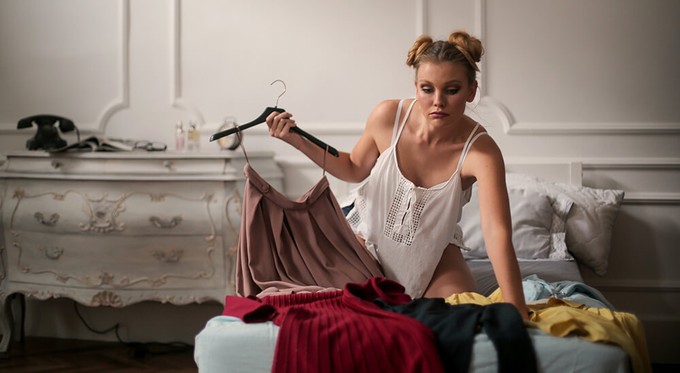 Have you already seen your friends look at a closet brimming full of clothes and complain that "I have nothing to wear"?
Then, a sustainable declutter is in order. Not everyone fancies setting an afternoon aside to do that on their own, though.
So, suggest decluttering together! You could do this in rotation—at a different friend's house every week—and make it fun (for example, have some music playing, rate different outfits, and help each other choose what to keep).
Here are some tips on how to declutter your wardrobe sustainably.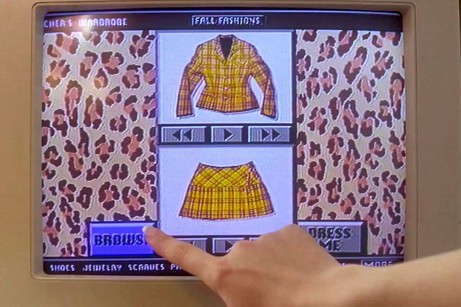 Imege from Clueless (1995)
Cher from Clueless isn't the best role model when it comes to reducing your clothing consumption but she did have the right idea!
Did you know that we only wear 10% of our clothes on a day-to-day basis?
So, digitising them will allow your friends to keep track of everything they own and try new combinations—instead of feeling like they need to buy new garments.
And of course, this sustainable fashion activity is more enjoyable if you do it all together! Some handy digital wardrobe apps are Indyx, Whering, Stylebook, Pureple, and Cladwell.
8. Run an upcycling get together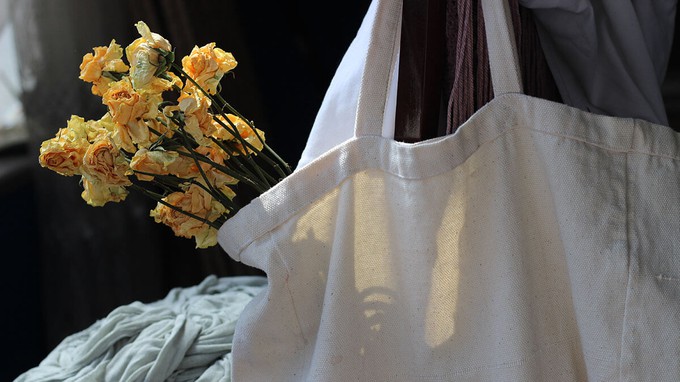 Has your friend got a garment that's broken beyond repair? Or one that holds sentimental value but that they just don't like wearing anymore?
Get your creative juices flowing by modifying your clothes (you'll find all kinds of tutorials online), like:
Shirt -> sleeveless blouse or top
Jeans -> skirt
Maxi dress -> long skirt or jumpsuit
Add fabric and pockets to existing pieces
Turn them into a different item altogether, like a tote bag, scarf, or scrunchie
How about sharing this list of fun sustainable fashion activities and asking your friends what they'd be up for trying first?
And if you've found it helpful, start receiving our tips and inspiration to make even more sustainable fashion choices.
---
No drastic lifestyle changes! With our lazy person's guide to sustainability, you'll make a difference for the planet... without leaving the bed.
Simple rules, lots of styles, and an eco-friendly approach: use our step-by-step guide on how to organise a clothing swap party with your friends (and make it EPIC)
It might feel scary at first, but talking about ethical fashion can actually be inspiring and fun, too. Here's how to do it without alienating your friends and family.
Project Cece is a platform that collects ethical clothing from different webshops on one website. Take a look in our shopping section and find the clothing that fits your style, budget and values!